MAGALUF STRIP VS MAGALUF SQUARE
VS BCM MAGALUF IN 2023!
Magaluf is famous for its fantastic nightlife, making it one of the party capitals of the world.
We are here to give you the low down on all the different areas in Magaluf so you can decide where to party on your Magaluf holiday. There is something for everyone in Magaluf, and with this guide, we hope to make your de- cisions on where to go easier! The promoters outside the bars and clubs will no doubt ask you.
"Hey, guys, where are you heading tonight" with the help of this article, you can confidently tell them where you're planning on going before they manage to persuade you to follow into their venue!


Value for money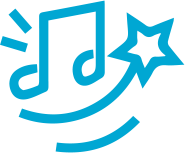 Atmosphere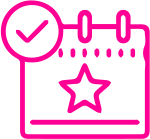 Events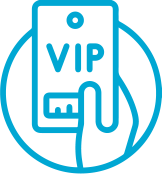 VIP options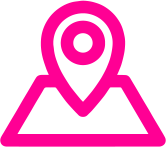 Venues

Places to eat

What is the Magaluf Strip?
The "Magaluf strip", known locally as the Punta Ballena, refers to the strip of bars and clubs which run parallel to the Magaluf beach. The Magaluf Strip is located on a hill filled with lit-up neon bars, massive night clubs, fast food joints, tattoo shops and even a vast Bungee ball amusement ride! It is paradise. This may be the most famous strip of nightlife in Europe, with holidaymakers from all over Europe. The majority of holidaymakers s are British, Spanish, Swedish, French, Israeli and Italian.


When does the Magaluf strip open and close?
The Magaluf Strip opens on April 1st, with the bars opening their doors first. The weekends are typically busy in April and May, with stag and hen groups flocking to Magaluf for their last night of freedom. Typically Tokio Joes is the first nightclub in Magaluf to open in April, followed by Boomerang and Bananas, which usually open in May. It should be noted that the bars on the Magaluf strip could easily be confused for nightclubs in their own right as they all have DJs and dance floors but generally close at 4 am, whereas the clubs stay open until 6 am. Magaluf enjoys its peak season in June and July when students break up from college and university and visit for their summer break; in august, there is a little drop in the capacity as the price of the flights increases.August usually sees more Italians and French partygoers joining in the fun.
In September, the Magaluf strip stays relatively busy with an older crowd and the stag and hens typically come back for September and October. The bars on the strip typically close on Halloween each year, and the majority stay closed throughout the winter, although there are a few bars, such as Prince William, 3 Lions pub and Eastenders bar, which stay open all year around.


The Magaluf Strip officially runs from Plaza bar at the bottom of the strip all the way through to Bananas club at the top of the strip. In between these, there are over 40 bars, 5 Nightclubs, countless fast food restaurants and five tattoo shops! We will give you a low down of the best places to visit. For more information on all the different bars in Magaluf, read our Magaluf Bar guide, which also includes bars located around the Magaluf Strip.
STEREO BAR
The stereo bar is one of the most popular bars on the strip. The bar is located at the bottom of the hill and is typically the first bar you see when visiting the legendary Magaluf strip. The large neon sign attracts you from afar, and when you first enter the bar, it's awe-inspiring. It feels like you're in Dubai with its posh ultra-modern interior and great sound system. Stereo has always employed the best staff on the island, so you can expect the best DJs and bar staff to ensure you are having the best time on your holiday.
VELVET LOUNGE
Velvet Lounge is located next to Stereo and is the newest Lap dance bar in Magaluf. This intimate venue has VIP rooms, premium drink spirits and free entry. This bar is open late at night and is a great place to stop off on your way home from the Magaluf Strip.
STEREO TEMPLE
Stereo temple is the sister bar of Stereo. This two-tiered bar replaces the old BCM shop. Stereo temple is decorated similarly to Stereo with its chic decor and white-washed walls, and purple and blue neon lights. Stereo temple has a massive terrace, so it's a fantastic place to watch the madness on the Magaluf strip unfold. The top floor has a cool VIP area where you can have bottle service by Magaluf hostesses! Downstairs there is a DJ and small dance floor, and a large outdoor terrace with seating for over 100 guests.
RED LION
The Red Lion bar is one of the most famous bars on the strip. This party bar can be seen from afar with its bright red and blue neon lights. The Red lion is also renowned for their door staff. This is where the infamous Benji works. If you are not familiar with Benji, then he is a sensation who has got over 3.5 Million views on Tiktok. In the video, which went Viral, Benji shoulder presses a young holidaymaker over his head with one arm. He is famous in Magaluf, and if you're friendly, he will be happy to have a photo with you, and if you're lucky, he might pick you up with his teeth or shoulder press you above his head. Red Lion is open day and night and is popular with holidaymakers as the DJs play the best summer anthems. It's also famous for stag and hen groups.
CRYSTALS BAR
Crystals bar is a similar bar to Red Lion, being around the same size and towards the bottom end of the Magaluf Strip. This bar is another cool party bar which has a great terrace to sit outside and watch the carnage unfold on the Magaluf Strip. This is a good party bar which gets busy every night of the summer.
JD SPORTS BAR
JD Sports bar is located next door to the red lion bar and directly opposite Capitol and Secrets. This bar was inspired by the Jack Daniels Brand; it is very slick with cool decor and a vast outdoor terrace backing onto the beach. The bar has a real summer vibe with its open-air layout. The DJ at JD bar plays a mixture of the latest house music combined with some classic hits too. The bar staff are really attentive, and there are usually no queues for drinks.
SECRETS LAPDANCE
Secrets is another famous strip and lap dancing club on the Magaluf Strip. This club has an extensive roster of girls from all over Europe. Inside the club, there are VIP rooms. A stage with pole dancing and regular stage shows for the customers. Drink prices are competitive, and its a good vibe,
CAPITOL BAR
Capitol Bar is a fabulous party bar located at the bottom end of the strip. This bar is situated above Secrets lap dance. Capitol used to be famous for its one-hour free bar, but due to new laws in Magaluf, this is not possible any longer. Now Capitol is renowned for its silent disco. So stick your headphones on and get ready to party on the vast dance floor. If you fancy a bit of a laugh, take the headphones off, and you will no doubt hear some singing from poorly-tuned voices! Capitol is open every night.
MAMBOS BAR
Mambos bar is an open-air bar on the Magaluf Strip. The bar is a great place to have a day session as it's all outdoors. It is popular with British holidaymakers due to its rodeo bull.
ALEX'S BARS
Alex's bars consist of Alexs Indie, Alexs R+B, Alexs Party Bar and Alexs lounge. These bars are located halfway up the Magaluf Strip and are some of the most popular bars in Maga. These bars cater for everything, with the lounge offering the best new house music, the R+B with the best urban DJs on the Island and Indie, well, you guessed it offering the best Indie music! These bars are trendy, so come and party the night away at Alex's bars.


TIGER TIGER
Tiger Tiger opened its doors in 2022, and the response has been phenomenal. The bar, along with Stereo, is now the busiest on the Magaluf Strip. Tiger Tiger is now the official home for the Magaluf White Party twice every week which is the coolest and classiest event in Magaluf. Tiger Tiger has taken Magaluf Strip to the next level with its cool slick interior and cosmopolitan vibes. Every night there is a house photographer at Tiger who upload photos to the Facebook page. Tiger Tiger prides itself on having the best staff, so you will find fantastic resident DJs, excellent English speaking bar staff and the best security team in Magaluf.
MR MYAGIS
Mr Myagis's bar is located In the building which used to be KFC back in the day! However, this bar is now so much more than the chicken shop. This bar is now fully revamped and is one of the best places to party on the strip. The bar places mostly urban and R+B music and boasts an incredible sound system. There is also a huge terrace overlooking the Alexs bars.
WYLD BAR
Wyld Bar is one of Magaluf's newest bars. This upmarket venue has been tastefully decorated in the theme of a jungle, making it the perfect venue to the Magaluf Zoo Party. This is definitely one of the sassiest bars on the strip\ and throws a fantastic party with its vibrant colours and buzzing atmosphere. The bar has an outdoor bar for those who wish to chill and also an indoor bar next to the dance floor.
PURE LAP DANCE
Pure lap dance is another one of Magaluf's premium lap dancing clubs located next to Wyld Bar. Once you go down the stairs, you will find a large stage with a pole for stage shows. The club also has an array of VIP and private rooms, making it a great place to get to know the girls. We all have one friend who will spend too much in these clubs, so make sure he doesn't blow his budget On the first night!
VARDA
Varda is one of the newest bars in Magaluf for 2023. This bar is themed, all things pink! This ultra-modern cool, and slightly Barbie-themed bar is going to blow your mind. It is undoubtedly one of the most instagrammable bars in Magaluf. There is a Pink Vespa on the way in, which is a very cool place to take your snaps and share on your social media. Inside the bar, everything is pink and floral. You can reserve VIP tables here. Just drop us a message and we can organise it. VIP tables sell out in advance, so must be pre-booked.
VIKING BAR
Viking Bar is a Scandinavian bar located opposite Varda at the top end of the Magaluf Strip. This bar, as the name suggests, is busy with our Scandinavian friends. The bar is fantastic, with competitive drink prices and a great selection of drinks. The bar gets more active later in the evening. If you fancy trying to pull someone Swedish, this is the bar to try!
HONEYS
Honeys is a lap dancing club operated by the MCP (Magaluf Club Pass) franchise. This is a large adult-only venue at the top of the Magaluf Strip. As with the other Magaluf Strip clubs, it is busy later in the evening. Drink prices are competitive, and a large selection of girls here. Open until 6 am.
THREE LIONS
The 3 Lions Pub is a small British pub located at the top of end go the Magaluf Strip, 3 Lions is open all year round, making it a popular spot for both workers, locals and holidaymakers. It is an excellent place to watch live sports during the daytime, and at night it turns into a Magaluf disco with British Djs. It is a cool watering hole to try before you hit the Magaluf Events.
X FACTOR BAR
If you like Karaoke, then you've come to the right place. The new X factor bar allows you to showcase your vocal talent! This bar is super popular amongst hen groups and is great fun for all, whether you hold a note or you're just watching for entertainment! Karaoke is great fun for all ages so swing by for a night full of laughter!
MULLIGANS BAR
Mulligan's bar is a famous Irish pub nestled on the corner of the Magaluf Strip opposite Burger King and Bananas Nightclub. If you are staying at the top end of Magaluf, it's likely this will be the first bar you visit. The bar is open both day and night, making it a popular place to watch live sports during the day and turns into a wild party every night of the summer! It is also an excellent place for Magaluf stag and hen groups as they get well looked after!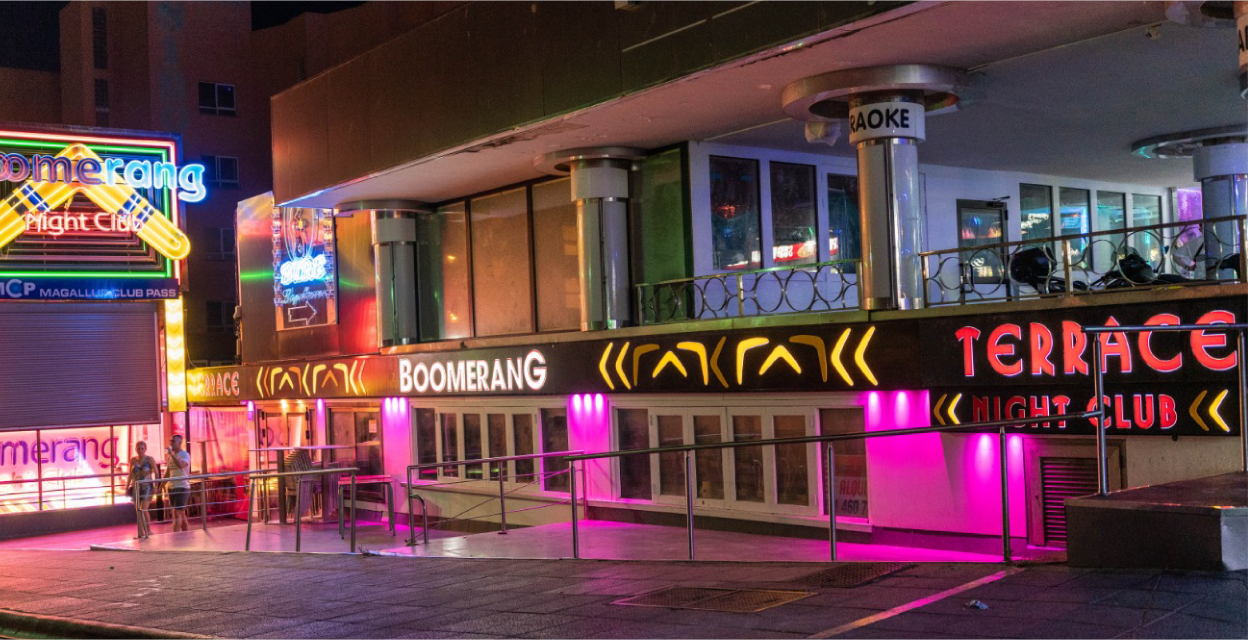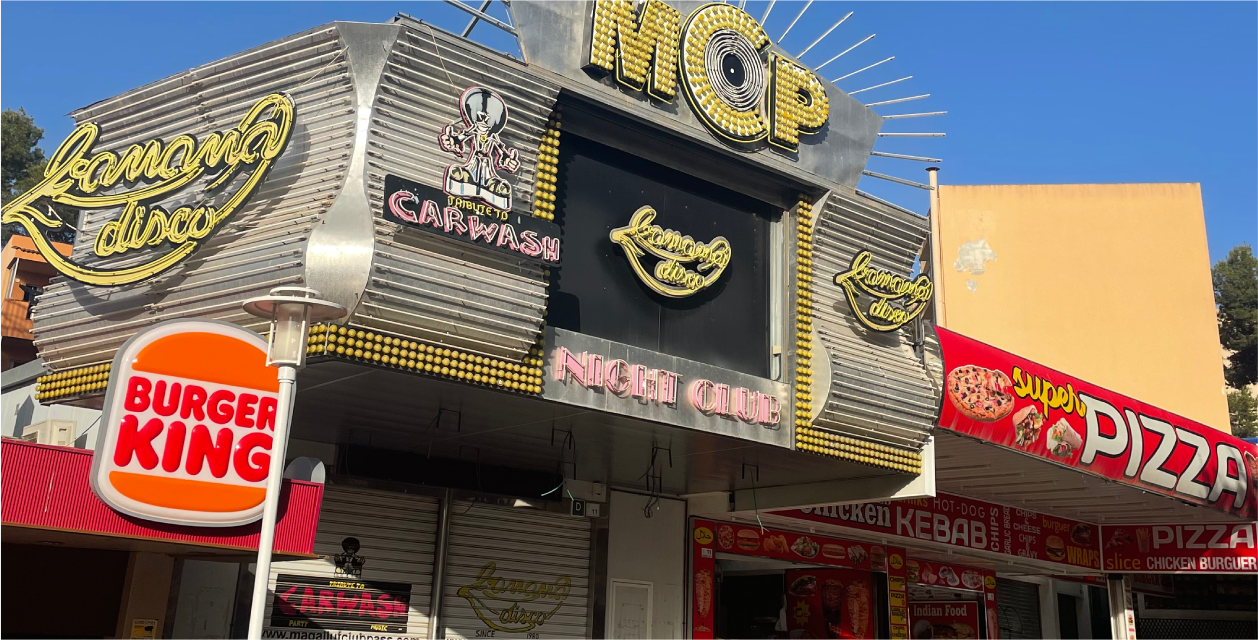 Although most bars on the Magaluf Strip could be considered clubs in their own right as they all have DJs and large dance floors. These are the Magaluf clubs which are open later. The bars generally close at 4 am, and the clubs listed here close at 6 am, just as the sun rises. If you want a more extended club guide, please visit the Magaluf Club Guide.
NIGHT FLIGHT NIGHTCLUB
Night Flight is located opposite Capitol bar on the strip. This is the newest club on the Magaluf Strip and has a cool futuristic feel. The nightclub really packs a punch with its loud sound system, which plays bangers all night long. The club is the only club on the strip not to charge entry so it's also an excellent place to visit if you're on a budget. Once inside the club, there is a decent-sized dance floor which can cater for hundreds of clubbers.
TOKYO JOES NIGHTCLUB
Tokio Joes is an urban club in Magaluf, this club is part of the MCP franchise. Tokio Joes is one of the biggest clubs on the Magaluf Strip and has a really cool vibe inside. Tokio is one of the few venues with famous acts and celebrities performing at the club. Previous shows include Lethal Bizzle, Tinchy Stryder and Skepta, to name a few. If you like HiP Hop and R+B then this is the club for you. Two nights in MCP clubs is included in the Magaluf Ultimate Package, which also consists of 25 Euros to open each night to spend,
BOOMERANG NIGHTCLUB
Boomerang nightclub is located halfway up the strip near Varda Bar. This club is another one of the MCP franchises which means one stamp or wristband gets you entry to all of the clubs for the night. Once you go down the Chrome staircase at Boomerang and through the curtains, you will find the coolest air conditioning in Magaluf. Inside the club, there are 3


enormous bars for drinks which are needed due to the capacity of the club, which gets busy in peak season, especially when celebs or famous acts are hosting the night club which is usually a few times each week. Typical shows include Reality stars such as Chloe Ferry, Mark Wright, party boy Scotty T and the latest love island stars. Boomerang has had some cool DJs, too such as Mike Skinner from the streets, and live performances from the likes of Jay Kay. Boomerang is another club included in the infamous Magaluf Ultimate Events Package.
CARWASH NIGHTCLUB
Carwash Club is located at the top of the Magaluf strip next to Bananas club. The car wash is not open every night but is open for special events only. These special Magaluf events include the Magaluf Paint Party and the Foam Party. These parties typically happen twice a week each during peak season. This club is super fun and host parties that its unlikely you can do back home. So prepare to get wet and messy on these crazy-themed nights.
BANANAS NIGHTCLUB
Bananas nightclub is one of the legendary nightclubs in Magaluf and one of Magaluf's longest-running night time venues. Bananas Club is the biggest club on the strip and also hosts a vast roster of celebrities, famous acts and live performances; past acts include Cascada, Ultrabeat and Fat Man Scoop! Bananas is busy all summer long and like the other clubs open until 6am. For VIP Tables at this club, just drop us a message.
BURGER KING
Burger King does not need any introduction home of the whopper. Great burger joint at the top of the Magaluf Strip also open very late, so quick and easy way to get a burger on your way back to your Magaluf hotel.
CHINESE RESTAURANT
There is a Chinese restaurant halfway up the Magaluf Strip. It is a sit-down restaurant but after 10pm they bring a small counter out where you can get a selection of Chinese food in a box such as noodles, salt and pepper chicken, seaweed etc. It tastes fantastic but is known locally as the death box because it has so many calories! Great place if you fancy some Chinese food.
THE CHIPPY
Traditional British fish and chip shop near the 3 Lions pub. The chippy sells Chips, fish, sausage, pizzas and kebabs. It is prevalent and gets busy every night of the summer.


PIZZA SHOPS
There are multiple Pizza shops on the Magaluf Strip, so if you fancy a Pizza or kebab, you have plenty of options.
ALEX'S CORNER
Alexs Corner is the top-rated Kebab shop on the Magaluf Strip, serving pizza, kebabs, burgers and wraps if you are hungry and near the middle of the strip, look no further.
CASABLANCA
Casablanca is a late-night restaurant in Magaluf, not closing its doors til 6am, Casablanca is higher end than the other food on the Magaluf Strip and you can enjoy a sit-down meal with quality ingredients. Casablanca is a little hidden but its located next to the Magaluf Slingshot.
TATTOO SHOPS ON THE MAGALUF
STRIP
There are many tattoo shops on the strip. Make sure you don't make any drunken mistakes!
THE MAGALUF SLINGSHOT ON THE
STRIP


The Iconic sling shot lights up the sky and can be seen from miles away. This crazy fun ride overlooks the Magaluf Strip, and if you're a thrill seeker, this is for you! The Magaluf Slingshot works non-stop day and night.


AFTER HOURS ON THE MAGALUF STRIP


SKY LOUNGE
Sky lounge is a bar in Magaluf for all of the people who want to carry on the party after the nightclubs have closed. Sky lounge opens at 6 am and surprisingly a long queue forms outside with people then go to sky lounge as an after our hours' venue. It's not as lovely as it sounds, but it's an experience! You will find people talking nonsense to each other on the terrace, or you can find a silent disco inside the venue! It's popular amongst both tourists and workers.

Magaluf Square is the new name for what some people may still refer to as BCM Square. This refers to the square of bars and restaurants behind the BCM nightclub and at the foot on the Magaluf Strip. Magaluf Square has been newly revamped and is now one of the coolest places in Magaluf. The Square is now a premium place to eat and drink, and people from all over Mallorca come to visit. The bars in the square are slightly higher end than most on the Magaluf strip so we will delve in and give you the rundown of the bars and restaurants in the Magaluf Square for 2023.
PEAKY BLINDERS TAVERN
The Peaky blinders bar is exactly what you would expect. An old-fashioned English tavern which is close as you can get to a real-life Garrison! The staff at Peaky blinders bar play their role dressed head to toe in traditional Peaky blinders attire with caps, and trousers with braces. It's a really cool vibe here, and live music is played on an evening, and if you're lucky, you can even get your photo taken with one of the Shelby boys! Definitely worth a visit!


COYOTE UGLY BAR KARAOKE
Coyote Ugly bar is another super cool-themed bar! Whether you've seen the movie or not, Coyote Ugly delivers on being one of the best bars in Magaluf. This bar can get pretty wild with the bar staff dancing on the bar and setting fire to it too! It's a great place to enjoy your Magaluf holiday, and the industrial feel of the area is different to other bars in Magaluf. The bar has also started doing Karaoke, so it's a great place to visit if you're in the singing mood!


THE IVY LAB COCKTAILS
We believe that the cocktails here are the best cocktails in Magaluf! They have a range of classic cocktails, which are created by the super experienced bar tenders, and they also have a unique cocktail menu designed by the cocktail masters themselves! For those Instagram lovers, there are also some pretty slick neon signs and swinging chairs, so it makes the perfect opportunity to take your snaps for Instagram!


The restaurants in the square are all inside a very fancy food court called Plaza EmpriYUM! Here some of the best restaurants in Mallorca have chosen to pitch up next to each other to offer quality and tasty meals to holidaymakers in Magaluf.



VACUU
Vaccu Steak House may just offer the juiciest steaks in Magaluf with only the best mouth-watering Argentinian beef ready for you. Vaccu have the best steak house in Palma nova, and now they have opened this as a second restaurant. There is a decent selection of different cuts but only premium steak is served here. If you are unsure, speak to the chefs behind the counter, who are experts in the best steaks in Magaluf. All of the meat is cooked on BBQ grills so you can enjoy the taste of char-grilled meat. If you don't fancy a steak, then burgers are also on the menu.


ITALYYUM
This authentic Italian restaurant offers a taste of Italy like no other! Forget Domino's or Pizza Hut. These stone baked Pizzas are next level! Expertly crafted and made with love by the Pizza chefs. You need to try these! They are also available for delivery on the Glovo App (Spain's answer to Uber Eats). Other substantial meals they offer include pasta dishes such as Lasagne and Carbonara. Or if you fancy a little snack, they also offer antipasti with fresh salads and garlic bread.


NO RICE
If you like Thai for or want to try something same same but different, then No Rice offers the best Thai meals in Magaluf. They deliver tasty stir-fried meals straight from the wok, a selection of tasty curries and all your favourite starters such as Spring Rolls, Prawn Crackers and Satay Chicken! We recommend trying the Pad Thai or the Massamam curry both delicious, and nowhere in Magaluf does them as well as No rice.


THE CHIP SHOP
With the majority of tourists in Magaluf being British, it makes sense to cater for their traditions. The Chip shop was opened in 2018 and has served excellent fresh fish and chips ever since! If you want a taste of the sea, or you're missing your chippy dinners, then this is the place to visit! They also serve all of your favourite sides, such as mushy peas, gravy and battered sausage!


PERIPERI PALACE - FLAME GRILLED CHICKEN
Is there a Nandos in Magaluf? Yes - Well, basically! This is Magaluf's place to get your cheeky Nandos fix! This unbelievably popular Peri Peri chicken shop is as close as you'll get to the real thing. Most of the UK Menu is covered with Halloumi, Peri Chicken breasts or on-the-bone, Peri Fries. And even the real Nandos sauces. This is our favourite place to eat and were sure this will be your favourite place to eat!


YUM-MY- COFFEE AND DESERTS
We all have one friend with a sweet tooth so bring them here for a taste of heaven! All desserts you can imagine, including Cheesecakes, Crumbles, Brownies, Ice cream and a whole heap of other sugary treats! Yum-MY also does excellent coffee from local roasters so come Give it a try





BCM Magaluf has been totally refurbished and is now the most fantastic-looking club In Magaluf. This new super club looks like its been plucked straight out of Ibiza and would go toe to toe with most clubs around the world for its beautiful exterior. Once you are inside you will notice that the BCM we once loved has changed with VIP sections now taking a major focus around the nightclub. This is now a VIP Superclub and looks like a millionaire's playground with Grey Goose being sent to tables in BCM Cars with sparklers for everyone to see. This new concept is a welcome change and shows that Magaluf is moving in the right direction to appeal to clubbers from all ages, all nationalities. Back in the day BCM Magaluf used to be a place you could visit in a vest and flossys; however this new VIP feel feels more like a Mykonos Vibe so dress to impress if you are visiting BCM. We would also recommend getting a table at one of the many VIP areas in the club as at least one-fifth of the club will have that luxury!
The toilets in BCM Magaluf have been a massive hit with inspiration from HI in Ibiza; these toilets have DJ's playing in the bathrooms, perhaps a great place to meet people and boogie whilst waiting for your friends! BCM Magaluf has had a fantastic roster in 2022 with DJs such as Solardo, Hannah Wants, Deborah De Luca, Fisher all hitting the super club and proved hug energies all the way through the summer. We are waiting to find out the BCM Line up for Magaluf 2023 but we are sure it will be as equally spectacular as in 2022! Danny Howard is expected to keep his weekly residency bringing over the best Tech House Djs every single week. We think that everyone should experience BCM once on the Magaluf holiday.



BEST VALUE FOR MONEY:
MAGALUF STRIP
You can't argue with the Magaluf Strip for value for money; every bar is competing with each other, so you get the best deals the you're on the Magaluf Strip. This gets even better if you have a Magaluf Ultimate Package Wristband as you get discounts in bars, restaurants and on activities such as waiving your Magaluf wristband. The Magaluf Square is more premium, so if you're looking for a nicer venue for a cocktail, we recommend the square. BCM Is more expensive. The best way to experience the Magaluf Strip is on the Magaluf Ultimate Package, which includes all the best events.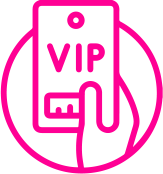 BEST PLACE FOR VIP
IN MAGALUF?
BCM MAGALUF
There's no question the best VIP areas in Magaluf are inside the BCM nightclub especially if you choose to get a VIP booth positioned behind a famous DJ! There are options on Magaluf Strip which is excellent if you want more of a chilled vibe, but if you want crazy, then BCM is your best bet!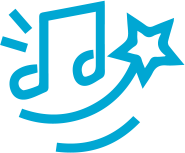 BEST ATMOSPHERE:
MAGALUF STRIP
There is no better atmosphere than the Magaluf Strip, and it is buzzing every night of the summer from around 9 pm every night until 6 am. People moving from bar to bar or on the events, it feels like something crazy happens every minute. This is what summer is all about warm summer nights and everyone living their best lives.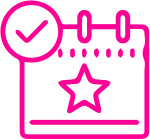 BEST EVENTS
MAGALUF STRIP
The best events are located on the Magaluf Strip, The White Party, Zoo Magaluf, Full Moon Party and the MCP Nightclub hosted parties such as the Foam party and the Paint party are unrivalled. Magaluf BCM does host different DJs and live acts but not as much variety as on the Magaluf Strip.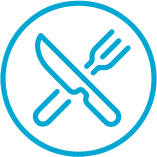 BEST PLACES TO EAT:
MAGALUF SQUARE
There is no doubt the best place to grab a bite to eat is in Magaluf Square, and a great variety means that everyone in your group can order from different restaurants but still sit together and enjoy each other's company. The square is buzzing in the early evening as the night draws in. It's the perfect place to eat. The strip has a few cheap eats but save these for on the way home after a big night out!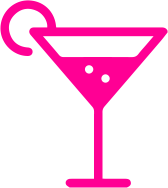 BEST COCKTAILS:
MAGALUF SQUARE
We believe the best cocktails in Magaluf are served at the IVY Lab in Magaluf Square. You have to visit to see for yourself. There are other options on the Magaluf Strip, with Stereo Temple coming a close second and Varda Bar coming third. BCM is not have a cocktail drinking vibe.