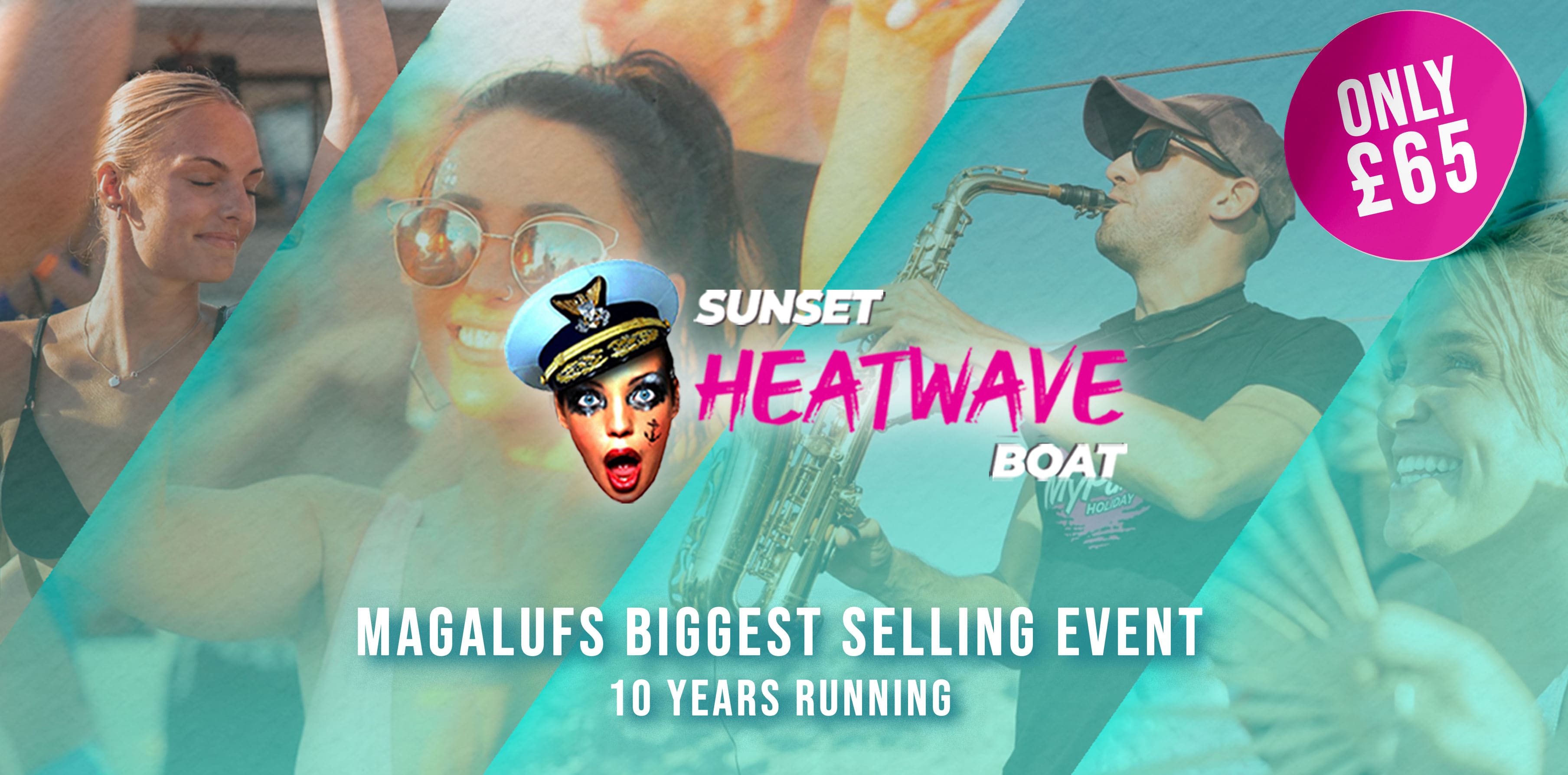 SUNSET AT SEA BOAT
EXPERIENCE 2023
Magaluf's Biggest, award winning Sunset At Sea Boat Experience is back in Mallorca with a Bang!
Famously regarded as the biggest event on the island for the last ten years, this day out as sea on board the luxury 5 million pound boat always guaranteed to deliver a day you'll never forget!
So what's it's all about? Think of it as a floating festival in the sun, in the middle of the ocean, in the middle of the day!
Enjoy the live music and entertainment as we sail across the stunning coastline of Palma, soaking up the rays and the summer vibes of Mallorca 2023!
Drinks are available onboard from the bar and we also include an incredible BBQ lunch along with Pasta salad and fresh fruit!
This summer this 250 capacity super boat will be taking over the Mediterranean once again, with its internationally acclaimed Music sets along with live saxaphone performances and bongos percussion! Along with the The C02 Freeze Cannons and a secluded swim stop in the crystal blue waters of the ocean This event is simply unrivalled anywhere on the planet!
As soon as the boat returns to land you're all officially invited to the famous ShipWrecked' after-party where you get a chance to check out all the HD photography of you guys enjoying yourself onboard the boat! So Dress to impress and enjoy our onboard Instagram backdrops to make all your friends jealous at home! Lol
Sunset At Sea (formally named Sunset Booze Cruise/ Sunset Boat party) is officially Magalufs Biggest and longest running sun and sea experience!- please do not accept cheap imitations either online or in resort! This is NOT some run of the mill 'Magaluf Boat Cruise' or 'Magaluf Boat Party' this is so much more! We guarantee it will be the best day of your holiday! #WeAreSunset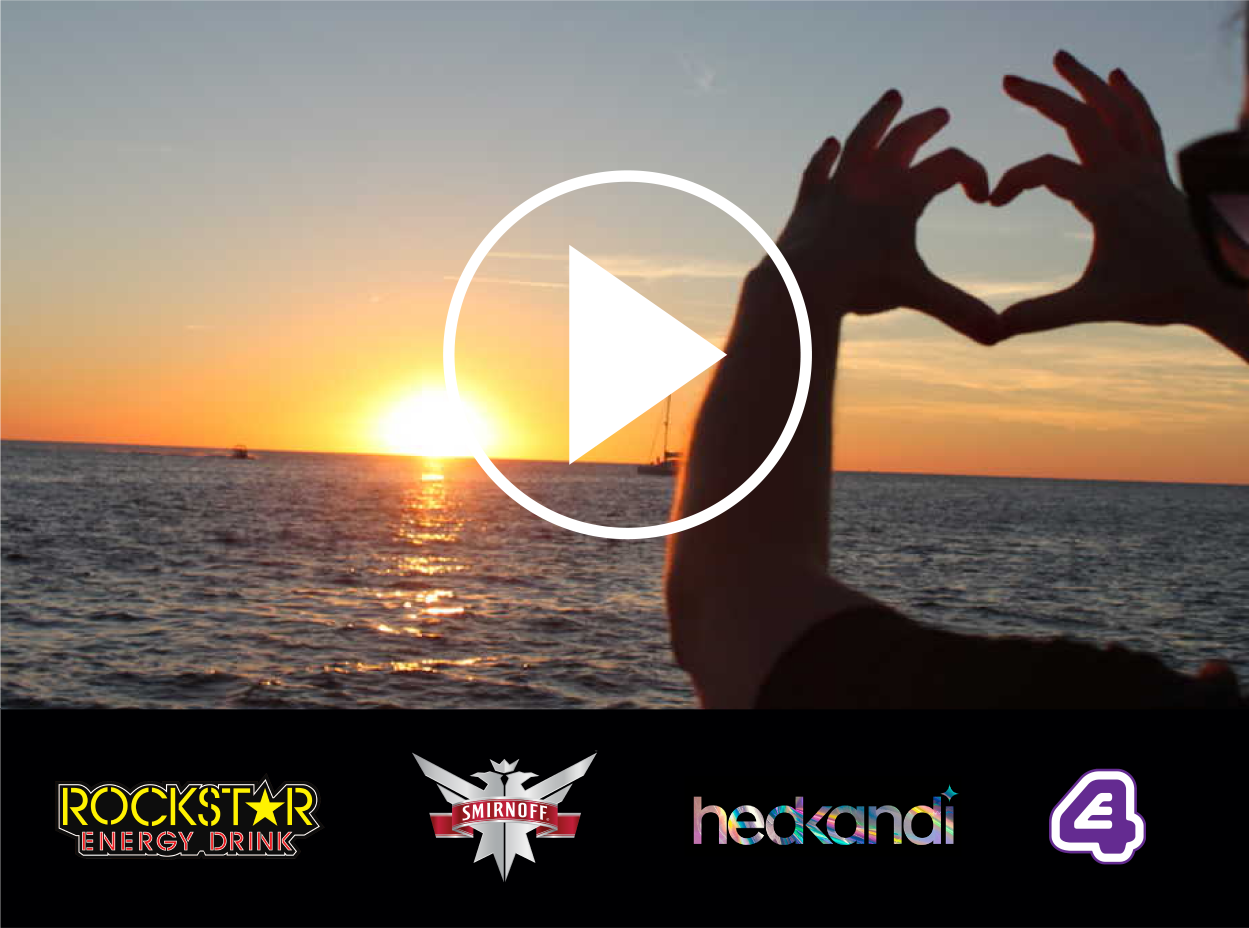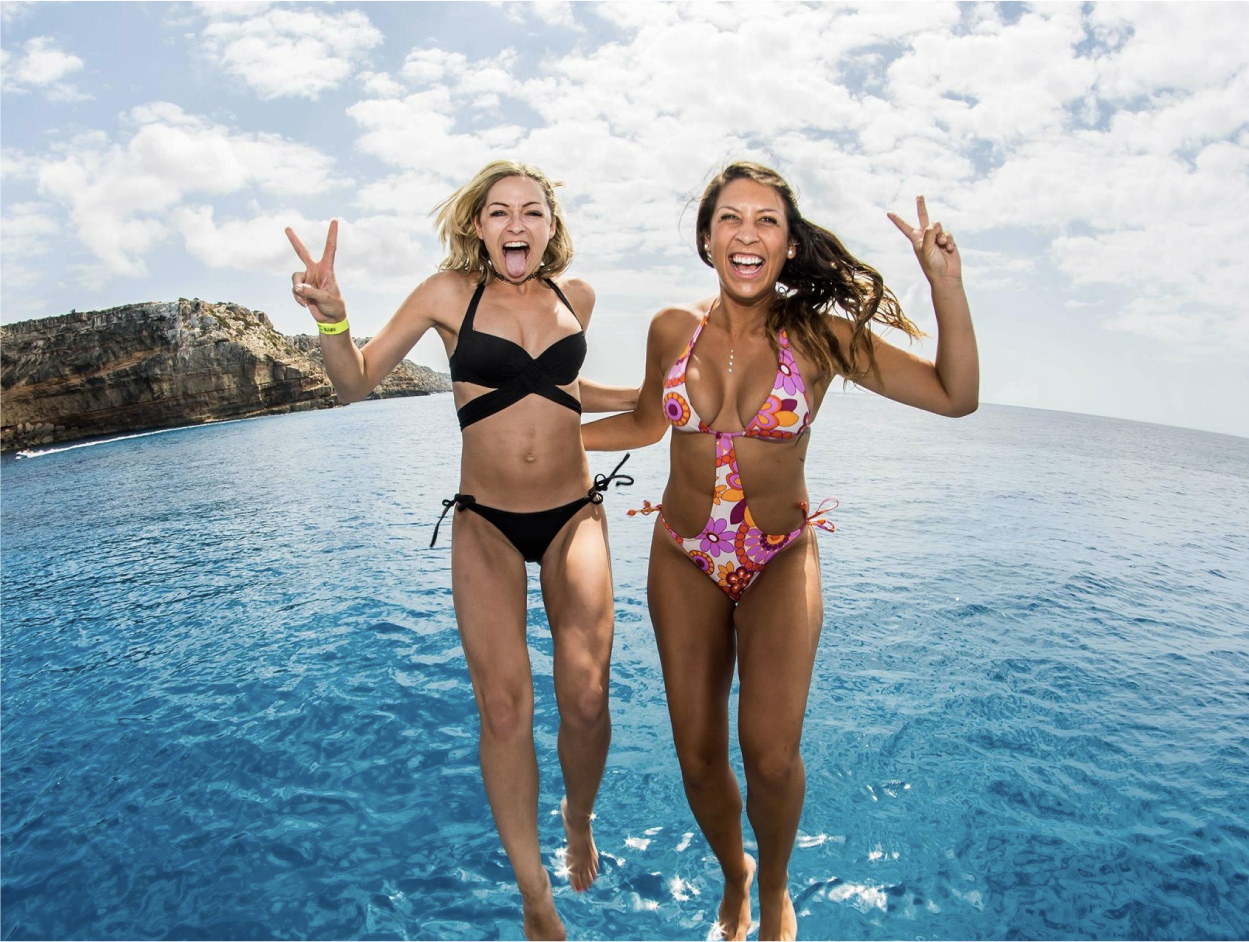 The Magalufevents.com team want to hear about your time on our events! Our unrivalled five star rating let's us know we are still the number one event team in Magaluf when it comes to headlining events in Magaluf! Jump to the website Reviews.com to read over one THOUSAND independent reviews- just search 'Magaluf Events Company'
Whats included
SUNSET AT SEA 2023
Standard
£65
NUMBER 1 BEST SELLING BOAT TRIP
250 CAPACITY TWO TIER LUXURY BOAT
MUSIC + LIVE ENTERTAINMENT
3 HOUR CRUISE
18-40 CROWD
C02 CANNONS
SWIM STOPS
BAR AVAILABLE
FRESH FRUIT
BBQ LUNCH INCLUDED WITH SOFT DRINKS
PRIZES AND GIVEAWAYS
'SHIPWRECKED' EVENING EVENT

Warning - Please be aware of illegal ticket sellers and other online companies selling Magaluf boat parties that do not exist. Do your own research. All tickets at Magalufevents.com are genuine and you have money back guarantee if for any reason the trip does not go ahead such as bad weather.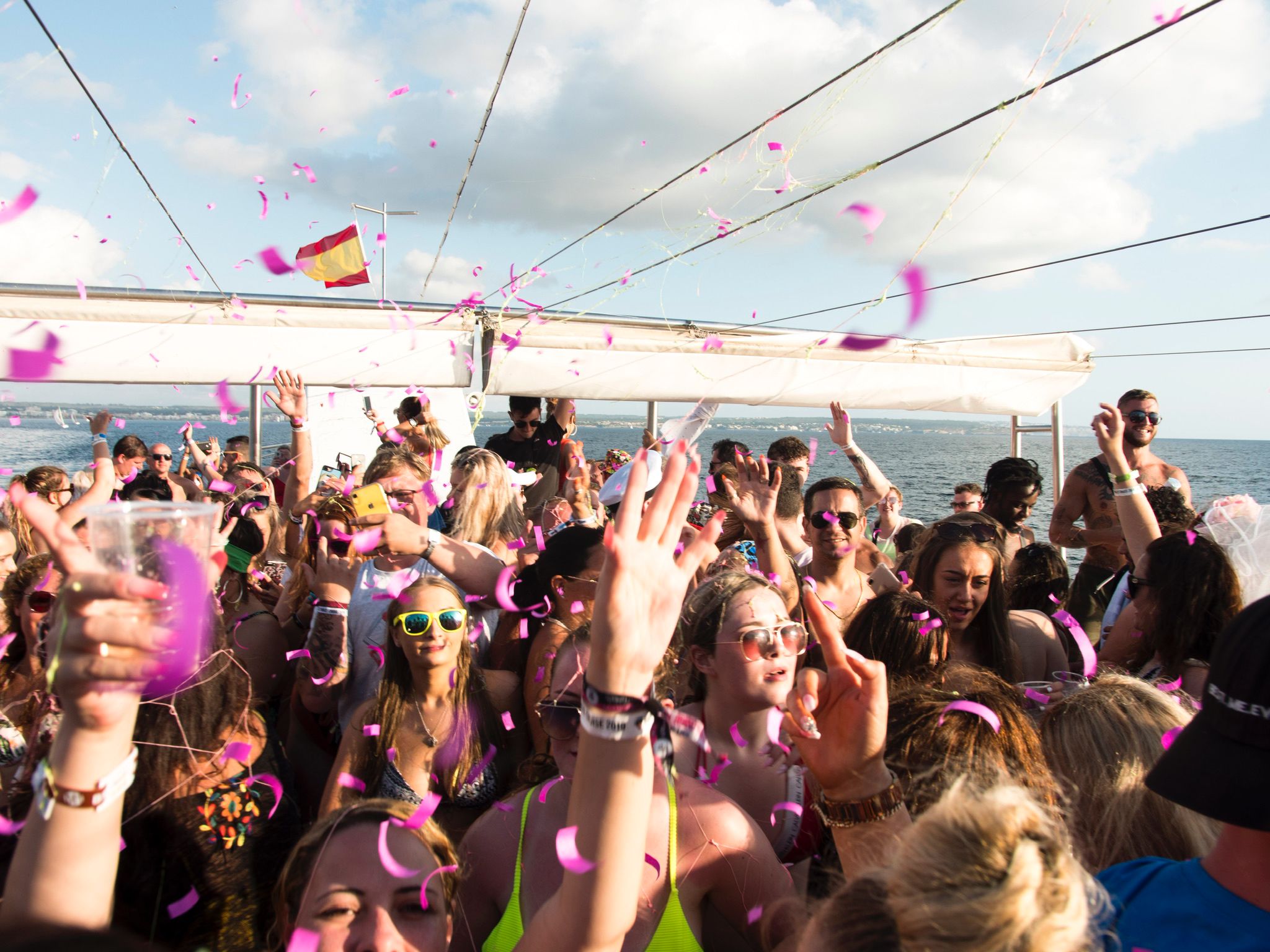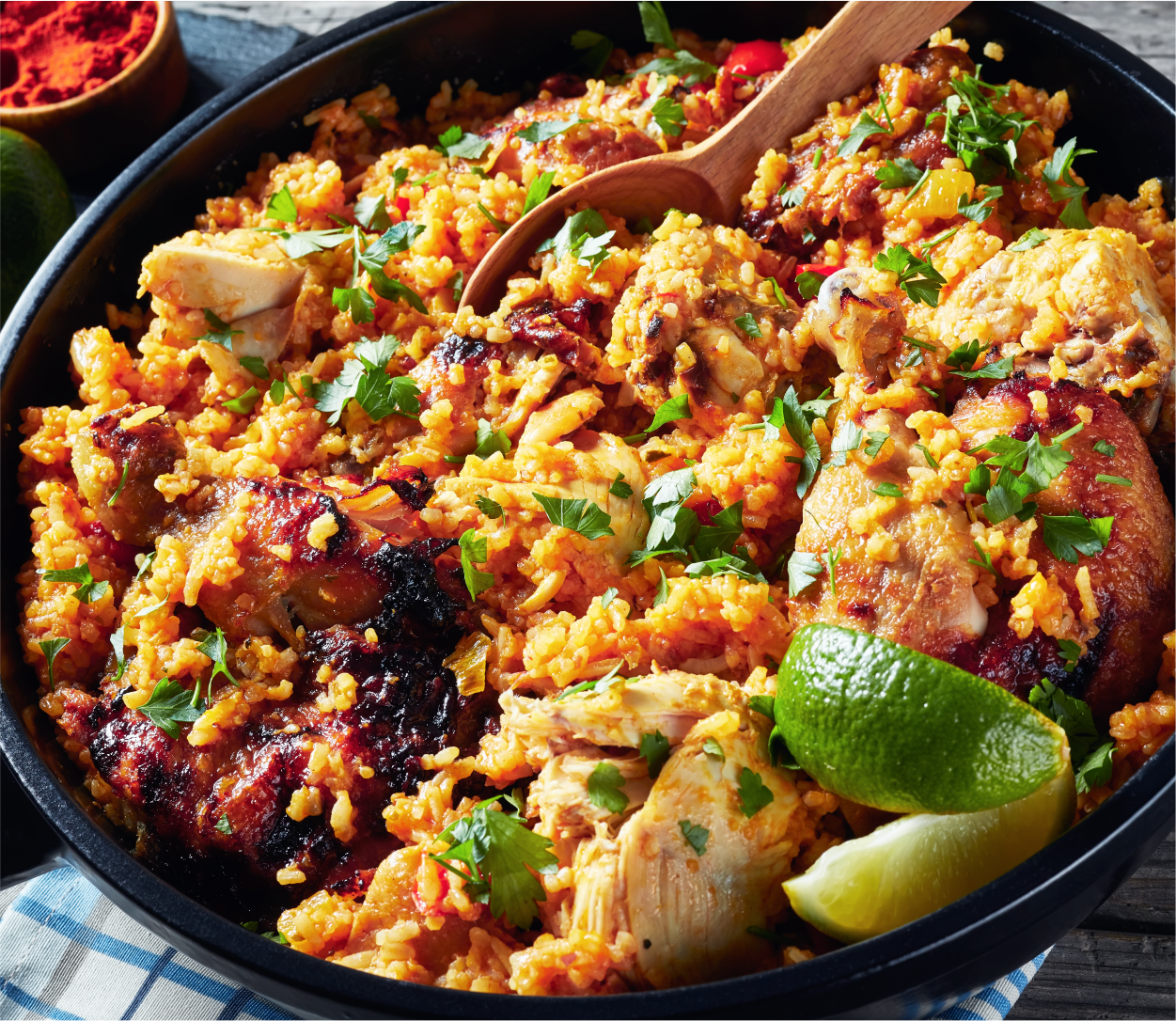 WHAT'S NEW FOR SUNSET AT SEA IN 2023
This summer we are excited to announce the welcome all the way from Rio De Janiro- Luis Santa Cruz on percussion- having played at the Rio carnivals he will be an amazing addition to the line up. We also have secured from Ibiza Alberto 'the maestro' Ruiz on the saxophone for another summer of Magaluf madness!
We are also introducing our brand new Chicken Paella lunch that will be served half way through the excursion when we anchor up by the crystal blue waters off the Palma coat.
COOLING SWIM STOP!
After soaking up the summon the top deck take the opportunity to go for a dip in the crystal blue waters of the Mediterranean by the secluded exclusive pirates cove. For those who do not want to swim feel free to stay onboard.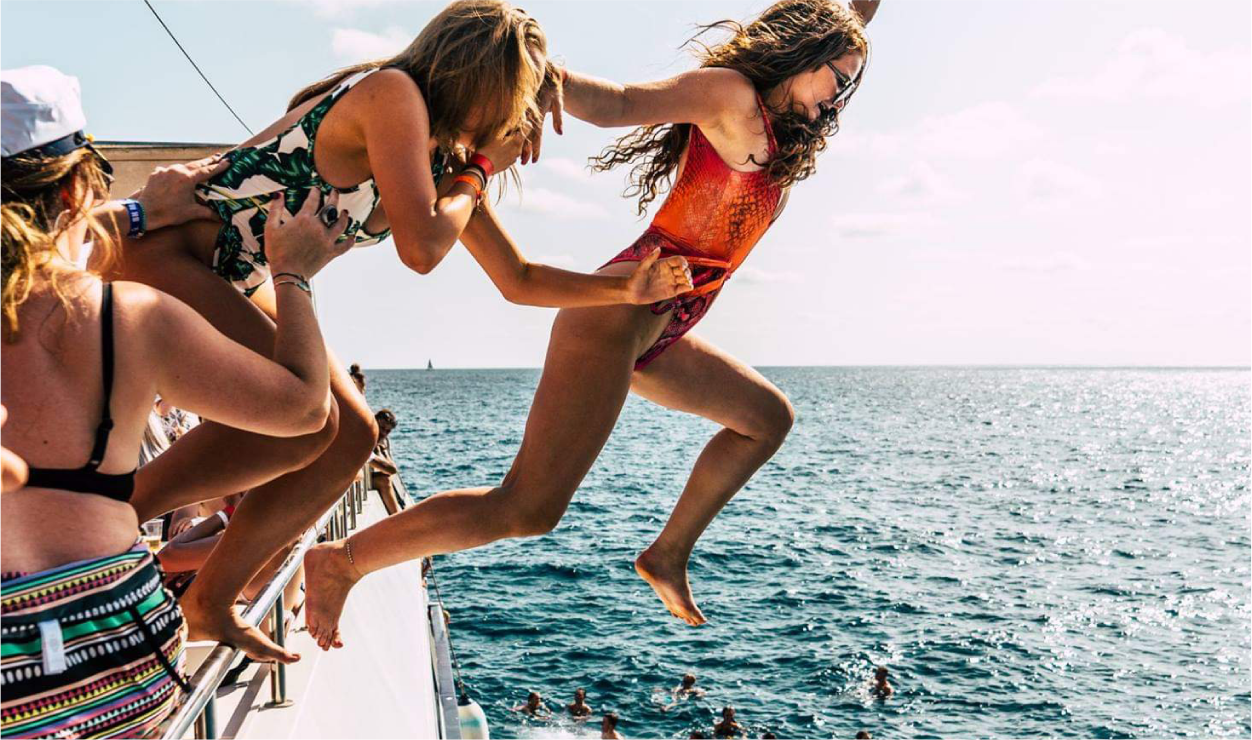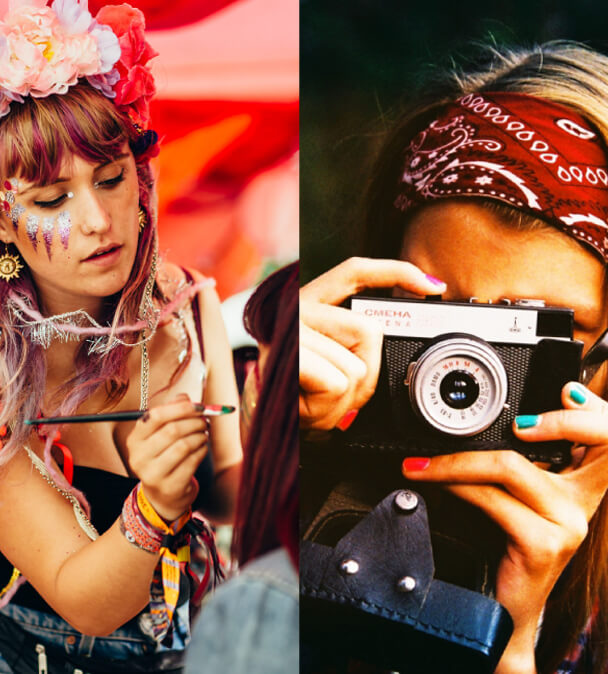 FREE HD PHOTOGRAPHY
OF YOUR DAY
Hi Guys I'm Ola, I'm your Photograoher onboard the Sunset Cruise this summer! I'll be responsible for taking loads of great snaps of you and your friends enjoying yourself on the world Famous Sunset At Sea Experience!
We've got loads of cool Instagram props and backdrops for you guys to pose with and make all your friends back home extremely jealous!
At the ShipWrecked Event after the Boat has docked back into the harbour we will upload all your photographs for you for and send the ones you want to your completely free of charge in perfect Ultra HD quality! Can't wait to meet you all onboard the boat for an unforgettable summer! #StrikeAPose

MR MAGALUF
Please note here at Sunset At Sea we follow the rules closely in relation with Mallorca guidelines. This is NOT a run-of-the-mill Magaluf Boat party or Magaluf Boat cruise!
Onboard the boat we do not encourage or tolerate excessive alcohol consumption or anti social drunken behaviour on board the boat. Please drink responsibly.

Step 1
Purchase your Sunset at Sea Experience securely online, either in full (£65) or with a £20 deposit(Remaining £39 paid when you arrive in resort)

Step 2
You will receive a confirmation e-mail of your purchase. Print this off (or screenshot to your phone) and bring it along to Magaluf

Step 3
Come down to our Magaluf Tickets Shop - our Reps will exchange your e-ticket for an admission wristband for the Sunset at Sea Experience
(they will also collect remaining balance if you opted for the deposit option at this point)