THE BEST EVENT IN MAGALUF 2019 HAS BEEN NAMED!
Every year we invite invite all of our customers to choose which event is their favourite in Magaluf.. This year a staggering 26,000 people have voted! Which makes it by far the biggest ever vote in Magaluf!
The winner has been revealed and it's takes the crown of best event in Magaluf for the 3rd year in a row!
The winner is..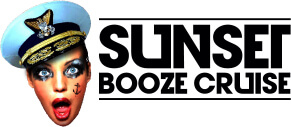 Why is Sunset Booze Cruise the stand out again winner again? We have listed the just some of the reasons below!
Festival level Production on board.
The sunset booze cruise party boat is equipped with the finest level of production. Which includes the loudest sound system on the med and co2 cannons fit for Creamfields! No other party boat in the world has this level of FX on board they are truly next level.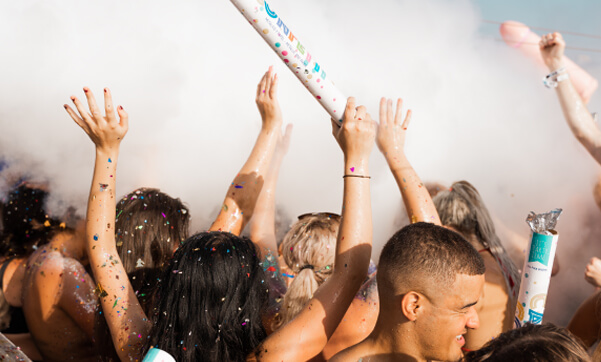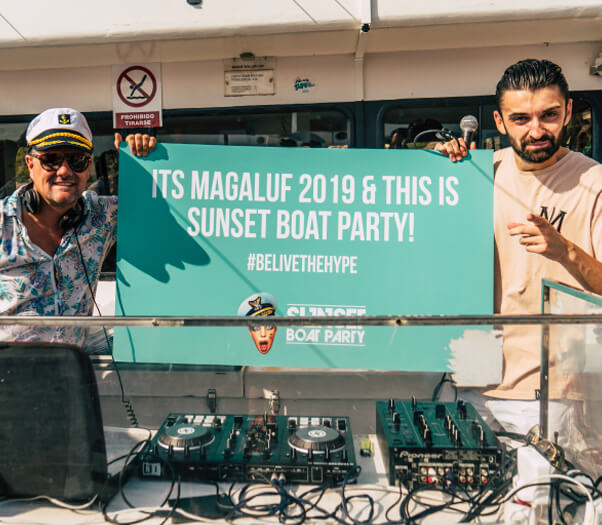 2 DJS
Sunset Booze Cruise goes all out on everything! Including Hiring the hottest DJS on the planet! Most boat parties hire one DJ. Sunset booze cruise always has two DJS who perform back to back! The Sunset booze cruise DJS have played in some of the best clubs around the world including Space Ibiza, Club Liv in Miami and Fabric in London. The DJS on board sunset boat party will play the latest tracks of the summer alongside all the club classics, having two dJS has the huge advantage of having a host on the mic to get the party going whilst the other DJ can focus on mixing the music to make you party the day away. Sunset booze cruise also books regular international DJs so keep an eye out when for special guest DJS!
350 Capacity
Biggest capacity boat 350 people. There are 5 party boats who have a license to sail from Mallorca. The capacity of these boats are 140 on the Barca Sarca, Oceana and attraction boats and a whopping 350 people on the legendary Soller Cat. Sunset booze cruise work exclusively with Soller cat which has been specially made for hosting boat parties. It is the only boat which has co2 cannons, a kitchen to prepare food, a full stocked bar (not just beer and sangria like other cheap boat parties) and space for 350 people! There's a reason why so many people choose sunset booze cruise every summer!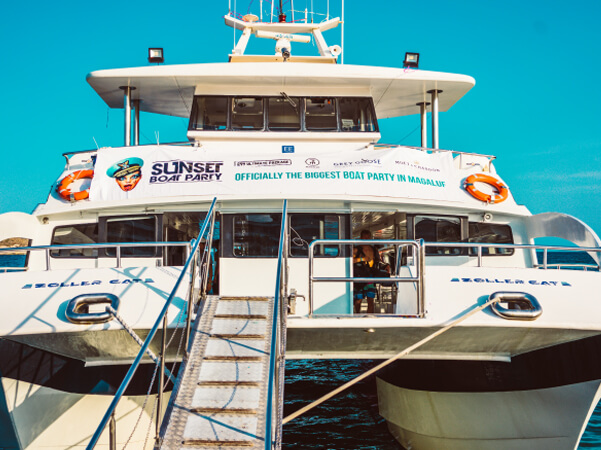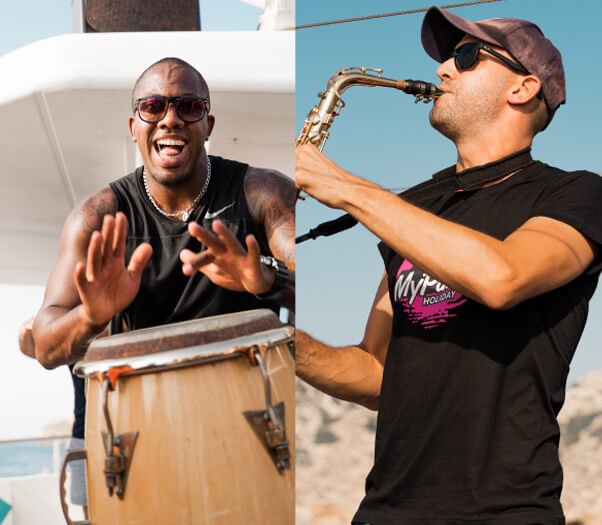 Live percussion and Live Sexy Saxophone
Sunset booze cruise does not rely on the DJs alone to keep you entertained! Say hello to the entertainment team and musicians on board who really do get the party started, equipped with their bongo drums and saxophones sunset creates a unique experience like no other. When On board sunset it's safe to say there is no place you would rather be. The swim stop is the perfect place to hear the saxophone which is sure to be one of the most instagram able moments of a magaluf holiday! No Magaluf Bar or Club throws a better party than the infamous Magaluf Sunset Boat Party.
Paint powder and Confetti cannons
Yes you heard it! Sunset booze cruise have had special permission to conduct a Holi powder paint party on every Magaluf boat party. Sunset Booze Cruise also goes all out with Elrow style confetti cannons which are spectacular to make all of your friends extra jealous back home! You don't get this treatment on other Magaluf Booze Cruises! So make sure you book your Sunset booze Cruise Tickets Online here if you want to avoid being disappointed.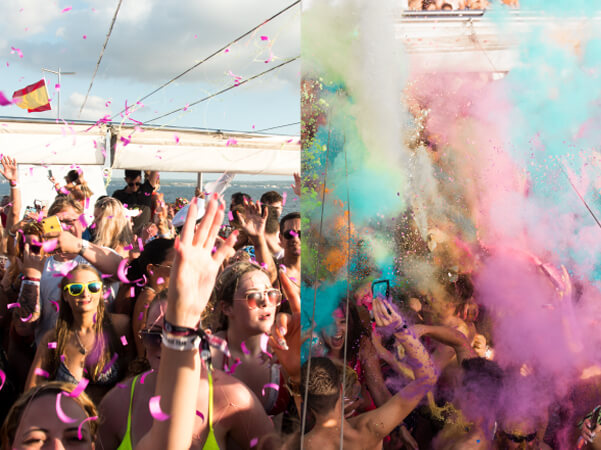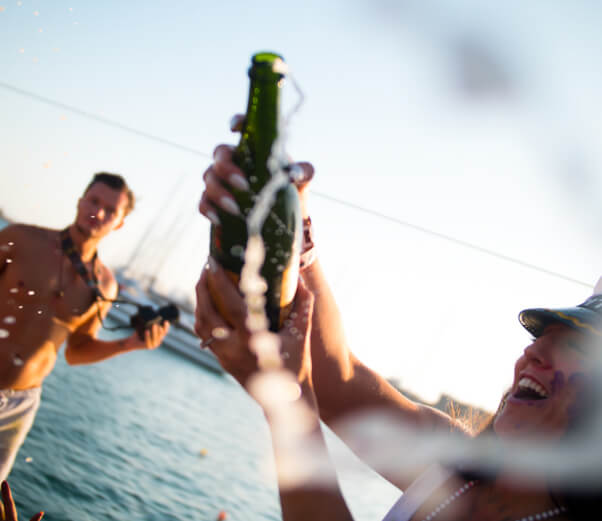 More bar staff
There's nothing worse than it taking time to get to the bar! Especially on a booze cruise! Unfortunately some smaller boat parties do not recognize this. We hear horror stories on other boat parties that people only have time to get server once as the bar is small and there's a lack of bar staff. Luckily if you sail with sunset booze cruise you will find a large fully equipped bar area with 4 bar staff to make all the drinks you require on the sunset booze cruise! This boat also offers premium bottle service which you can purchase on the day. Bottles of Champagne, Vodka and other spirits are all available at the bar.
Fresh fruit + Pasta included
Fresh fruit and pasta is provided by the catering staff as soon as you board the yacht. Whether you want to line your stomachs before the big day sesh on pasta or eat the fresh fruit (which is the ultimate hangover cure ) it's up to you but there's plenty to go around! Sunset booze cruise is a premium event and is the only party boat to provide free food so make sure you book wisely!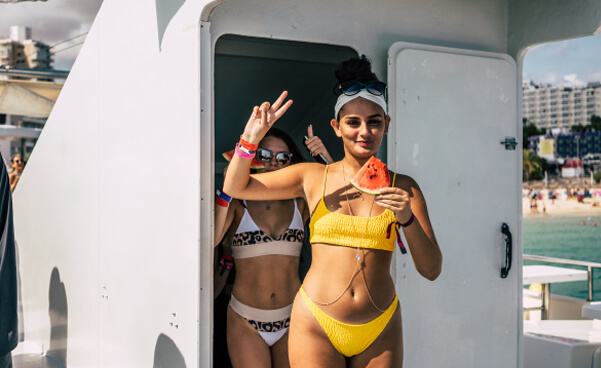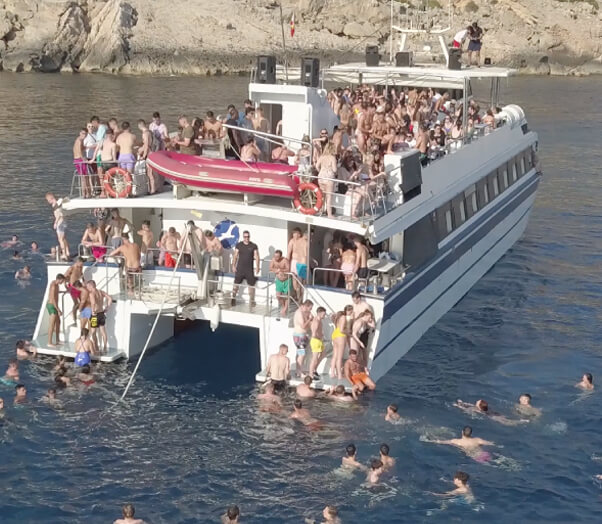 The boat used is a 10 million euro super boat!
This luxury yacht is likely to be the most expensive thing you ever got drunk on! The Soller cat is a custom made party boat and everything inch is designed for the ultimate boat party! Double decked boat with enough seating for 350 people and a large dance floor with an ultra crisp quality speaker system. Step on side the luxury boat to see it for yourself! The boat even has its own life boat attached! Yes it's that big!
Champagne Sprays
Sunset Booze Cruise is the ultimate Magaluf party. No Sunset Booze Cruise would be complete without a huge champagne shower. As many as 30 bottles of Champagne will be sprayed on every boat making it the biggest Champgane Spray Magaluf has ever seen! Everyone loves the Champagne spray and it takes the party to the next level! If for any reason you don't fancy getting wet no problem just head down stairs for a minute, for those that want to get wet then just stay on the dance floor!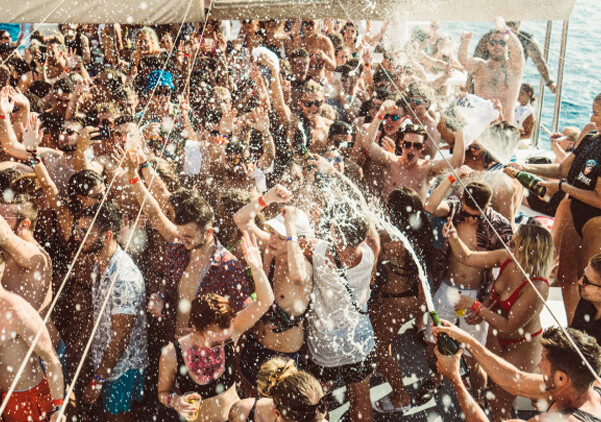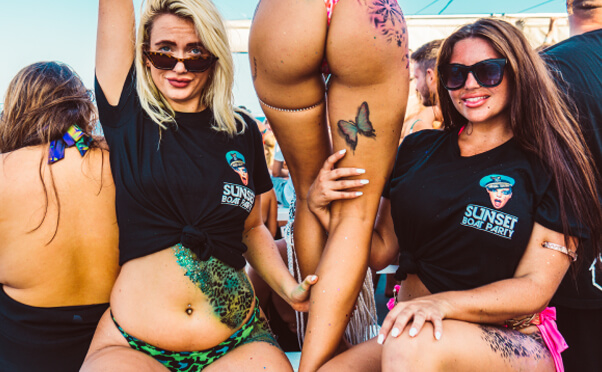 Reps and hostesses
The hottest and most hard working reps and hostesses are on board to ensure your day is one to remember. The Sunset Booze Cruise reps are regularly praised for going the the extra mile. Whether you need more glasses, more free shots or want the reps to to help you get the perfect instagram photo the reps are always on hand.
Professional HD photographer on every event
All events which are included in the Magaluf Ultimate Package include HD photography and Sunset Booze Cruise is no different! Professional photographer will be on tap to capture all of your holiday memories and publish them online so you can download them free or charge. The reason we have included this point in why sunset is the best event is because other inferior events do not have photography or if they do you'll need to pay for it. With sunset booze cruise it is Free.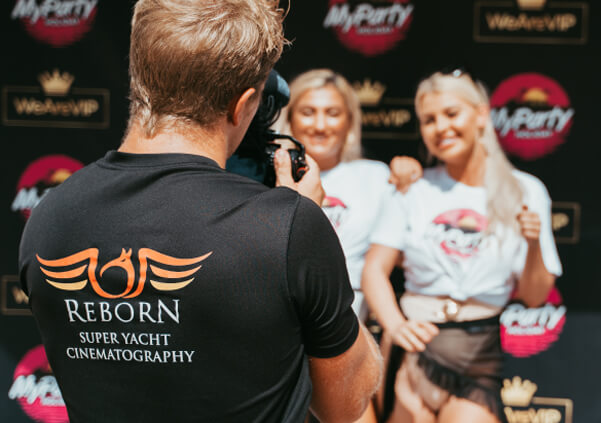 So there we have it! Sunset booze cruise is the best Magaluf events 2019. It gets better every year and we can't wait to see what The Magaluf boat party will be doing in 2020.