6 MOST INSTAGRAMMABLE SPOTS
IN MAGALUF 2023
The year is 2023 and one thing is for certain Instagram is LIFE! "If it didn't go on Instagram did it even happen". Well whether you're into the idea or not Instagram captures your memories and beams it for all of your friends to see what an incredible holiday you had in Magaluf. Which is why we have listed the top instagrammable places and things to do in and around Magaluf to help you highlight your Magaluf experience!
SUNSET BOOZE CRUISE
Sunset booze cruise is the coolest event in town so there's no better place to have your photos on this VIP boat party. Party amongst the coolest and best looking crowd in Europe and you may rub shoulders with a few celebs on board the boat too! Having photos on Sunset Booze Cruise is the best way to show your friends back home what they're missing out on. Perhaps even a cheeky video as the sun goes down on the specially designed party boat! Sunset Booze Cruise throws a party like no other in Magaluf! The legendary boat party is the perfect way to show off your Instagram. There is a lot to take photos and videos of! The Champagne Shower is always one of the best videos you can take where up to 30 bottles of champagne are sprayed all over the dance floor. The Magaluf boat party also had a weekly Paint Party on board! So if you want to take a photo with your best friend covered in powder paint then this is your chance. Or you can choose to take a photo at the front of the boat like its your own private yacht with the Mallorca beaches behind you. If you want to maximise your holiday photos then Sunset Booze Cruise is definitely the best place to get your holiday snaps that will make all of your friends jealous back home! Sunset Booze Cruise is the best boat party in Europe don't forget to get your tickets online before you come. Sunset Booze Cruise is included in the Magaluf Ultimate Package check it out here.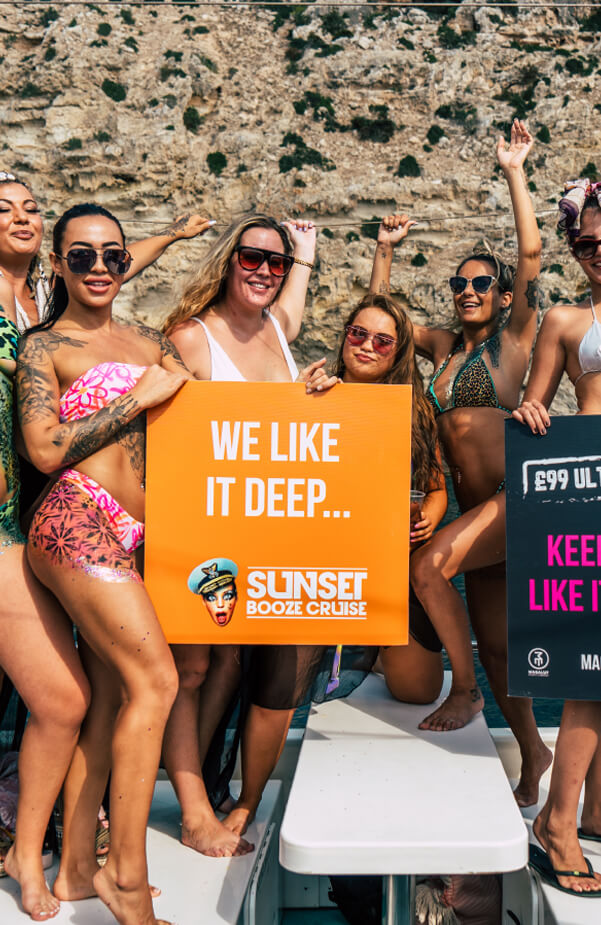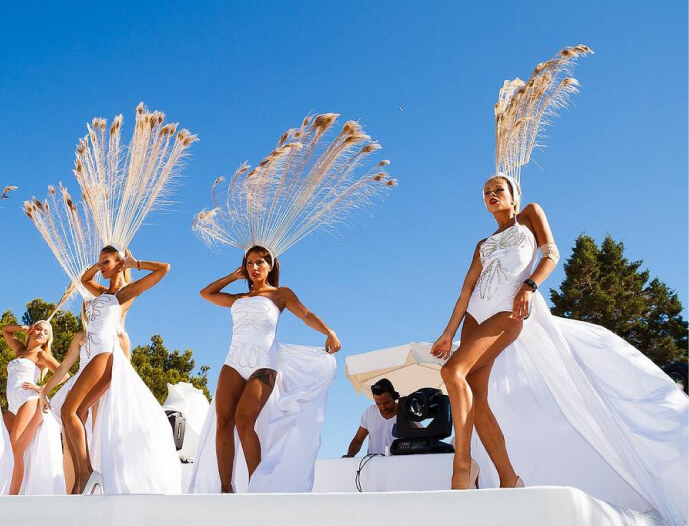 MAGALUF WHITE PARTY
The Magaluf White Party has been running for three years and is always a favourite place to take those glamorous Instagram photos. Everyone dressed in white is classy and sexy! Don't forget to have a photo against the famous White Party back drop! The white party is also an incredible opportunity to take a big group photo, at least 250 people will be partying on the event every week making it one of the biggest weekly parties Magaluf has ever witnessed! Make sure you dress to impress with your best white clothing! The White Party is hosted by the Magaluf Events Team and hosted in the heart of the Magaluf Nightlfe. Get your tickets for this legendary party here
NIKKI BEACH
Everyday is a party at Nikki beach. This is where you can find the most glamorous parties in Mallorca. Nikki beach originally from Miami is a huge hit with celebrities and those who want to enjoy the finer things in life. The wall of flowers at Nikki beach is iconic and definitely one of the best instagrammable spots in Mallorca. Or if you feeling flush and want to make a scene perhaps have a magnum of Grey goose vodka delivered to you by 6 sexy hostesses with coloured flares or maybe invest in the largest champagne spray in Europe brought out to you on a specially designed army tank . Nikki beach has it all! This is definitely one of the best ways to notch up those Instagram likes in Magaluf. There is a strict dress code so make sure you're dressed to impress in the classy beach club. The cost of drinks at Nikki beach are considerably higher than the rest of Magaluf we would advise to check the prices before ordering! Check out the legendary fruit platters or giant Ice cream platters which are guarantees to go down a treat when you show your followers what you are up to.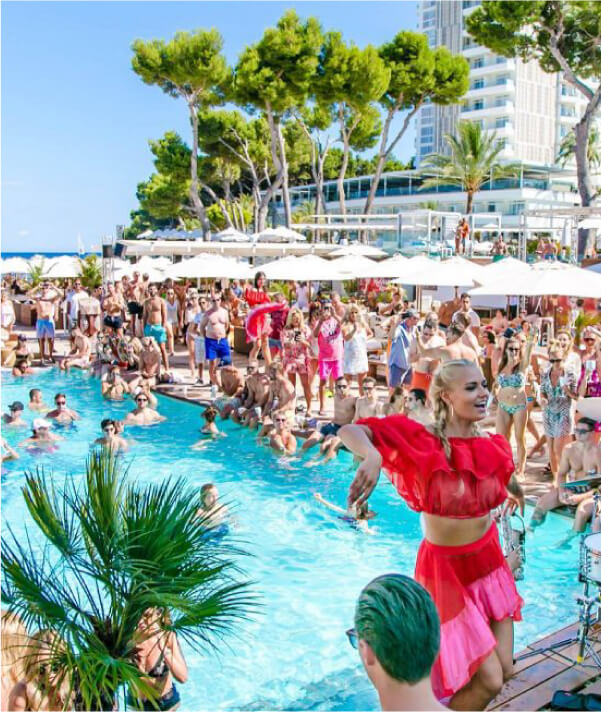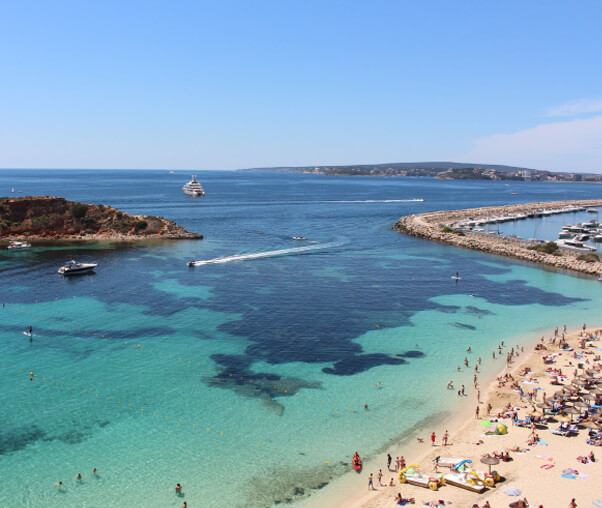 MAGALUF BEACH
There's no better way of showing Magaluf off to your Instagram followers than having a photo on the legendary Magaluf beach. The beach boasts golden sands and stretches around 1km across Magaluf and crystal clear waters throughout. Some of the clearest water in Spain. The beach is well recognizable especially with the island just off the coast and is guaranteed to get high interaction on your Instagram from your followers a lot of whom will be able to relate to the iconic location. If you wake up early enough or come home late enough you can witness the sun rise on Magaluf beach which is breathtaking and is sure to smash those Instagram likes
FULL MOON PARTY
The Magaluf Full Moon Party is the perfect night time event to show off how hard you are partying in Magaluf. To start with this event is different to other because you drink out of buckets! Yes that's right at the Full Moon Party you get to drink from 2 litre cocktail buckets! Choose your cocktail and share your buckets with your best friends! You also get given official full moon party merchandise usually a T shirt or vest to show off your holiday! If you want to stand out from the crowd Glow sticks are available all night long! Expect an extraordinary night out with live fire shows, Brazilian acrobats and a lot more! Be ready to take your selfies for Instagram with Neon Glow paint body paint! Click Here to book tickets for the Magaluf Full Moon Party.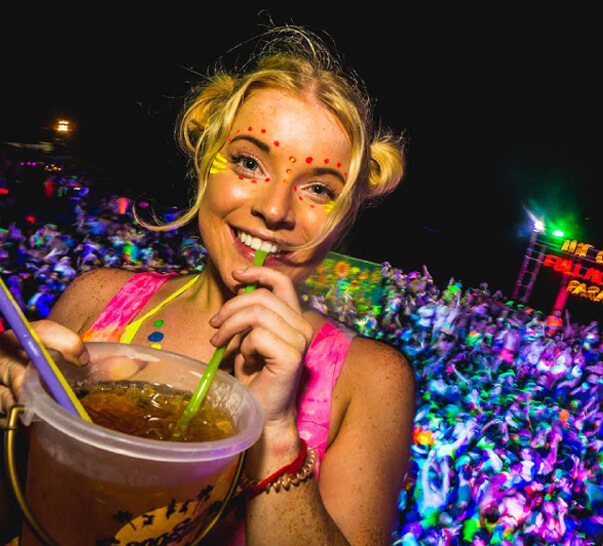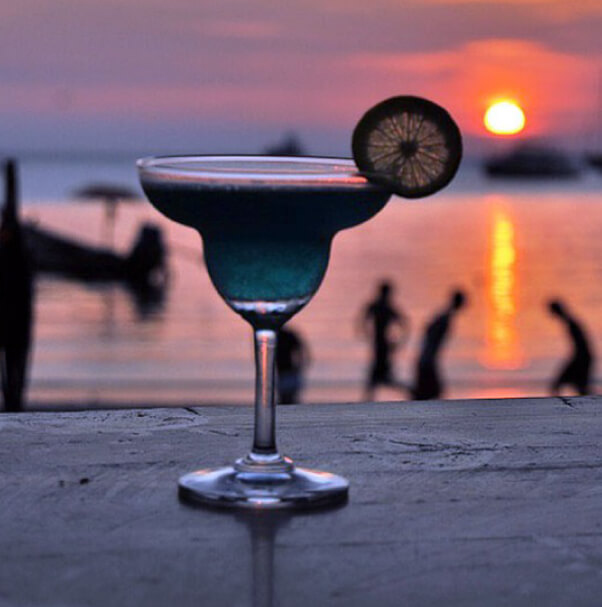 COCKTAILS AT THE
FOLLIES BEACH CLUB.
If you are thinking fancy cocktails in Magaluf then look no further than Follies Beach Club on Magaluf Beach. Similar to the Alchemist in the UK, the Follies Beach Club creates exquisite cocktails which are so impressive they will make your Instagram blow up! Make sure you try on of the delicious cocktails and make sure you get a photo with these stand out drinks. There is a large selection of cocktails on offer to cater for all of your needs. The Ivy lab is situated next to Linekers bar which is another popular bar for taking photos. Here you can have a photo next to a life size Gary Lineker and even grab a snap with the bar staff who are always dressed in the latest sports kits! Follies Beach Club overlooks the Magaluf beach and is the perfect back drop for all of your Instagram needs.