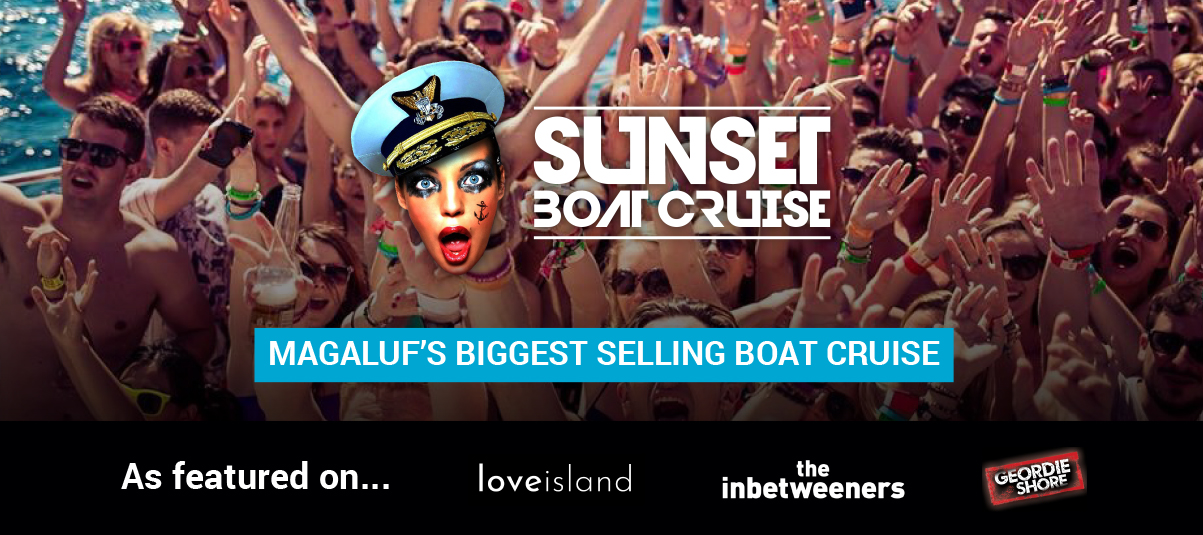 Sunset Boat
Cruise 2022
Magaluf's Biggest Award winning Boat Party is back for Magaluf 2022 with a Bang!
Not only has the famous Sunset Boat Cruise won the best event in Magaluf for the last six years in a row , it recently popped puka up in Ibiza to scoop the best European boat party prize!
Taking over the Mediterranean once again this summer- the number one Magaluf Boat Cruise, along with its internationally acclaimed DJ's is simply unrivalled anywhere on the planet! Think of it as a floating festival, in the middle of the ocean, in the middle of the day!
As soon as the boat returns to land we crank the volume up with the insane 'ShipWrecked' after-party with DJ Sun dance kid!
Out here on the official Magaluf boat party 2019- we party from Sunset to Sunrise! #WeAreSunset Sunset Boat Party is officially Magalufs Biggest and longest running Boat Cruise- do not accept cheap imitations either online or in resort!
Without doubt our favourite event here at Magalufevents.com is Sunset Boat Cruise! We refuse to sell other 'magaluf Boat cruises' because they simply look awful next to this event!
Sunset Boat Cruise is the highest rated event in Magaluf, and has been for years! The reviews speak for themselves! Just remember cheap 'Magaluf Boat Cruises' are cheap for a reason... 😂😂 don't get stuck on some stinking fishing boat this summer- go with these guys and it will be the best days of your holiday by a mile!
Check out the Sunset Boat Cruise reviews on this independent review site! It tells you all you need to know! See you onboard!
Whats included
Sunset Boat Cruise
Standard
£50
VIP
£59
350 Capacity party boat
5 Million Pound Yacht
Free fresh fruit and pasta salad
Two live dj's
Live percussion
Holi paint powder party
Confetti Cannons
CO2 Cannons
Swim Stop in the mediterranean
Face + Body paints available
Free fabric wristbands
Shipwrecked Afterparty
FOFO And Table On Board

Warning - Buying dodgy boat parties has become the biggest scam in Magaluf over the last few years. Be aware of online companies offering packages with 'Magaluf Boat Party' or 'Magaluf Boat Cruise' in them. The fact there is no brand name should sound alarm bells! There is nothing worse than having your day ruined by being stuck on some fishing boat with three other gullible people. Please do your homework- Sunset Boat Cruise is the ONLY recognised boat party in Magaluf! Please don't fall from the online scams and in-resort street sellers- who promise you the world but in truth are taking an extortionate amount of money off you for placing you on a raft!

Please be at the Meeting point on your E-ticket at 14.30. The Magaluf Boat Party Reps will be waiting inside to collect your tickets and give you your fabric admission wristbands for the boat. Please dress accordingly- the weather can get very hot whilst out at sea (although there is lots of shade downstairs) swimwear is ideal. There is a after party as soon as you return to land at the ShipWrecked after party so pace yourself on the boat! We'd recommend bringing just €15-€20 each which is more than enough to get four to five drinks whilst onboard.
WHAT'S NEW FOR SUNSET
BOAT CRUISE IN 2022
This summer we are excited to announce we are taking our resident DJ's on Sunset Boat Cruise to the next level! This year we will be bringing over an exciting mix of established DJ's from the Ibiza and Miami circuit. We also welcome the freshest, emerging talent on the island who guarantee to bring you the freshest tracks of the summer.
We also welcome all the way from Rio De Janiro- Luis Santa Cruz on percussion- having played at the Rio carnivals he will be an amazing addition to the line up. We also have secured from Ibiza Alberto 'El Maestro' Ruiz on the saxophone. (Sorry Hed Kandi and O-Beach he's signed up with us for a summer of Magaluf madness!) #TeamSunset!
Following on from the overwhelming success and amazing reviews from all of you guys we are thrilled to announce the Holi Paint powder party onboard Sunset Boat Cruise all summer! This Far Eastern festival paint explosion was the highlight of our closing parties back in 2019 so let's bring it back bigger and more colourful than ever for summer 2022! This will be done in the last thirty minutes of the Boat party so our photographer can get some photos of you all looking glamorous in your bikinis and budgie smugglers! Then we explode the rainbow pallet of paints all over each other out there in the Mediterranean! Check out the video below! The summer countdown till you're on that boat is on!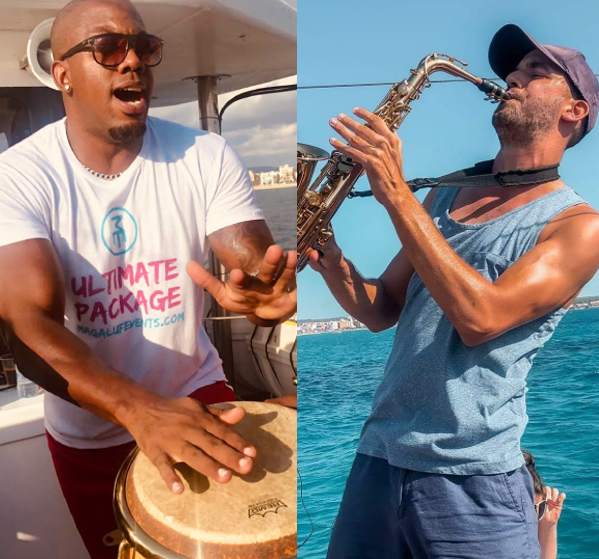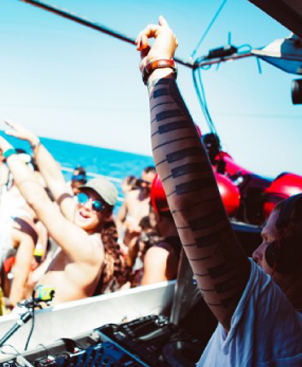 Two years in Ibiza with pukka up boat party and a year with Candy Pants in Marbella and they still don't come close to Sunset Boat Cruise- I love this Boat Cruise with a passion! The boat, the vibes, the people on board, it's just something really really special!!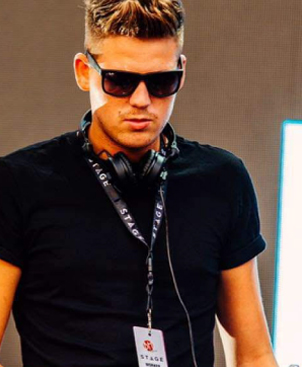 Hi I'm Ryan Miles- Mallorca has been my home for almost a decade now, five years of which I've had the privilege of having a Residency spot at BCM supporting some of the biggest artists on the planet. Buzzing to playing in front of you guys on the Ultimate Package events this summer!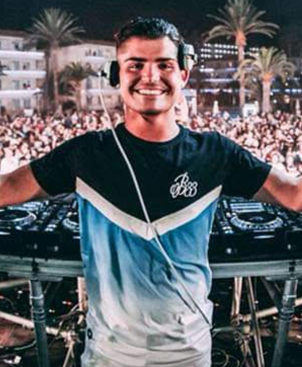 Brett Hayley- Magaluf In the summer is a truly special place! Nothing beats playing in the sun or in the clubs over here! The last few summers I've religiously played the Kiss FM pool parties With Tom Zanetti and K.O Kane! Catch me this summer on some of the ultimate package headline events!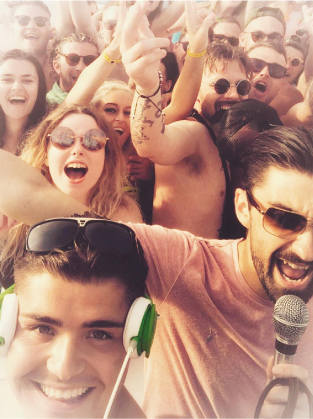 Mike 'House cat' Lorenzo! I've been DJ'n in Marbella and Magaluf for over five summers now! I'll be behind the decks once again this summer on the ultinate Sunset Boat Cruise, Pirates Reloaded, White Party and many many more of the top nights we have over here! Let's make it a summer to remember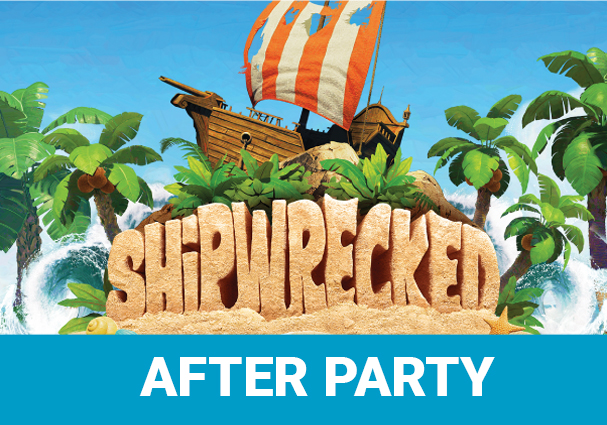 The party doesn't stop when Sunset Boat Cruise arrives back at shore after two hours of pure partying out on the sun-drenched Mediterranean! We head straight to our chosen venue for the incredible ShipWrecked afterparty! 350 party people all on the famous shipwrecked terrace with DJ Harris (AKA the Mad Hatter)! Expect party games and remixed hits if the summer from one of the islands biggest DJ's. When the sun goes down... The sound goes up!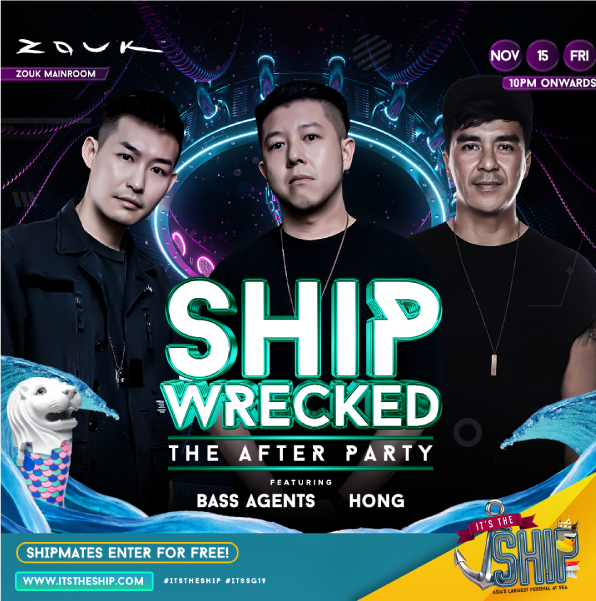 Details Given
On The Day

Straight after
the boat party

After Party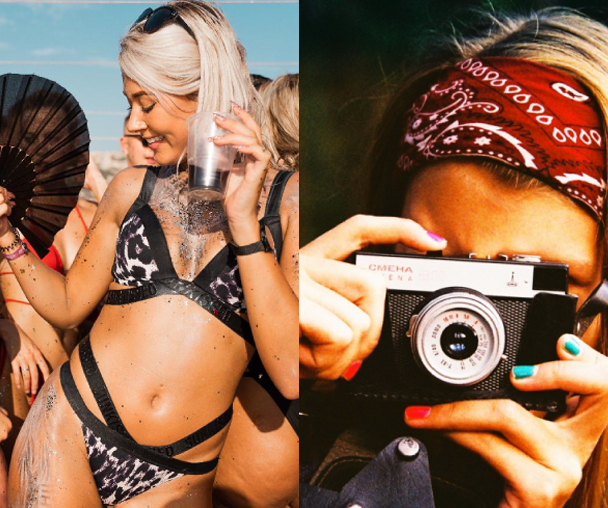 Free hd photography
of your day
Hi Guys, I'm Ola- I'm your photographer onboard Sunset Boat Cruise! Im responsible for making all your friends back home jealous of your holiday Instagram pics! I'm with you all day - from your pre-party to the Magaluf boat party to the ShipWrecked afterparty- I'll be snapping you and your friends all day! (yep even those ones of you looking mysteriously in the background out at the sunset! Lol)
All of your Ultra-HD photographs will be uploaded and sent on to you completely FREE of charge! #StrikeAPose #BestDayOfTheHoliday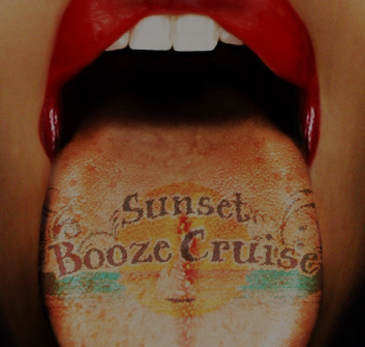 Sunset Boat
Party
The interviews!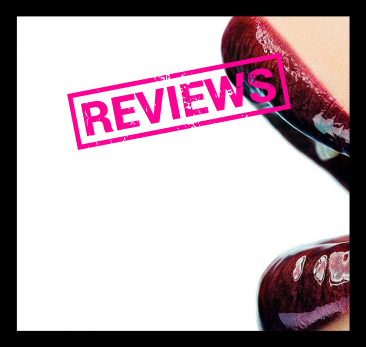 Read why we are
the most talked about
boat on the island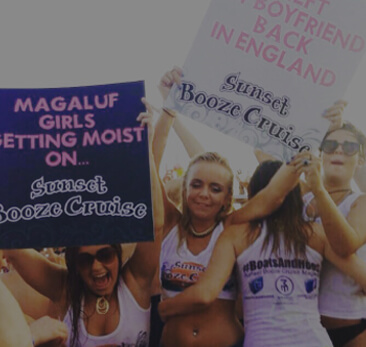 10 Tips & Hints
for maximising your day on Sunset Boat Party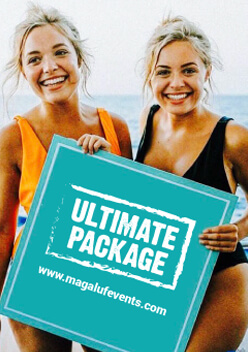 Why not upgrade
your Sunset
Boat Cruise
ticket to the
Ultimate Package
for only an extra
£49
Includes
Official Magaluf Full Moon Party
Sunset Boat Cruise
MCP paint party
White party
MCP Club Night
SummerHYPED
Amnezia Bar Blitz
Heatwave Pool Party& BBQ
Zoo Project
Revolution - VIP resort wristband
Find Out More
This is Magaluf's most popular weekly events package!
HD Photography and Rep Service all included.